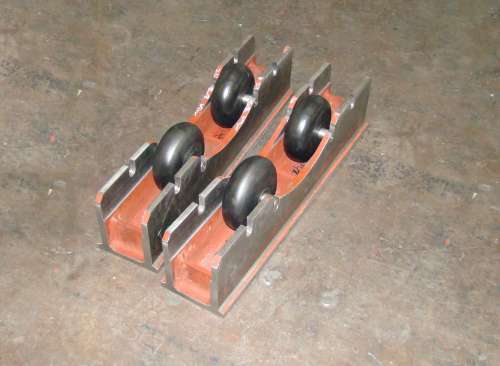 Small Adjustable welding turning rolls for cylindrical tank
Description
Small Adjustable welding turning rolls for cylindrical tank

Welding rotator rotating the work piece by the friction in between the wheels and work piece.
Adjustable Welding Rotator contains one drive unit and one idler unit. The distance between wheels can be adjusted to fit theparticular work piece properly within the specified range by moving positioning bolt or screw manually or motorized.
The wheels on rotator is made of inner cone and out PU (polyurethane) , which is durable and stable. Driving unit is supported by a AC variable frequency motor and Schneider inverter to drive the gearbox continuously changing variable speed, to realize low noise and steady movement.
The Nima electrical box and Schneider electrical appliances are adopted to meet with CE or UL standard electric system, which is suitable for 50HZ/6PHZ 110-600V. Taiwan made radio remote is used to control rotation
Welding rotators are a common welding auxiliary equipment, which is usually used in conjunction with a welding manipulator to complete the requirements for internal and external ring welding and longitudinal welding of cylinder parts, detection, assembly, derusting, polishing, spraying and other processes.
According to the different use environments,there are usually adjustable type and self-adjusting type, as well as walking, lifting, self-aligning and other models.